CONSULTING
Key Areas
Complimentary service to potential and current clients
Site Surveys
Customized Solutions
One-on-one Consults and Implementation Planning
Network Design
PC & Server Purchases
Printer Selection
Document Management
VoIP
eFax Services
TechSource Solutions is proud to offer complimentary consulting services designed to help us understand your business needs.  Our deep understanding of business processes and lifecycle management allows us to provide you with the best IT infrastructure design and implementation available.
We take designing your network and technology layout seriously.  Our method differs greatly from other conventional IT companies.  We feel our success derives from a basic principal of getting to know you, our customer, before making any decisions regarding your IT systems and helping you see the end result during the consulting process. Our staff takes the time to understand your business workflow, discover your current needs, and develop your vision for the future. We offer consulting for all technology hardware purchases, software decisions, Voice over IP (VoIP) telephones, and network design.
The staff at TechSource knows you are ultimately going to be the one using your equipment every day.  That is why we want to make sure our recommendations meet your short term and long term goals.
The Consulting Process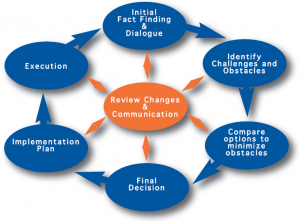 The TechSource Consulting process is based on a simple understanding of communication and your current business model.
We work with you or your IT personnel to design and develop effective solutions to the ever-changing demands of technology on your business. Through this multi-step process, a path is established for your business to follow based on immediate and long term needs of your organization.