SOFTWARE
Key Areas
Websites
Application Development
Database Applications
iPhone / iPad Development
Android Development
Data Conversions
TechSource offers custom software development designed to provide you with applications that meet your business work flow. With most off-the-shelf solutions, your workflow would need to be changed to match the software. Our developers will work with you to clearly define your immediate and future needs to offer you a software platform to run your business the way you designed it to run.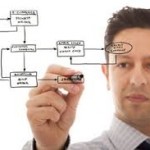 Our team is well versed in all popular programming languages, which allows us to provide the proper platform for your application(s).  From websites and smart phone applications to data conversions, we have a solution for you. Combined with our Hosting Solutions, your application can be readily available from anywhere at anytime for your employees and your customers to access, without the added stress of maintaining hardware and internet connections at your local office. In addition, your application can grow with your business as your needs change. Our developers can upgrade the components of your program that need modification without the hassle of transferring your customer data to a new program. Everything can be done on the fly with little or no interruption to your end users.
The secret to TechSource's software success is in our detailed planning and data gathering model. We immerse ourselves into your current business model and learn how data travels through your company from start to finish.