MANAGED SERVICES
Key Areas
Total IT Management
Flat Monthly Fee
Unlimited Support
Proactive Monitoring
Regular Hardware Replacement
Virtual CTO
Effective IT Planning
Technology support has long been a reactive approach to solving problems. TechSource is changing that model by offering a new generation of technology support – managed services. Under this new approach, we become your "virtual CTO" (Chief Technology Officer), constantly watching and anticipating your needs and problems for a flat monthly fee. By transforming your IT management into a managed service, you see less down-time related to hardware failures, software "glitches" and virus-related breeches to your network. This proactive approach ensures your company's technology is healthy, secure, and up-to-date for one flat monthly fee.
Our flexible managed service plans offer a range of options to best suit your needs. From full scale hardware replacement and service to simple servicing of your current hardware, we can custom build a solution tailored to you.
With TechSource, you can "grow as you go." Start with the managed IT services that make the most sense for your organization, then grow with us as your needs grow. Many business executives responsible for IT prefer that we take IT management off their hands. In these cases, we can manage their entire IT infrastructure, including desktops, servers, networks and more.  IT management has been called the black hole of the back office. It's a drain on resources, money, and most of all, time—time you don't have. Let us partner with you to take IT management off of your hands.
Effective managed services…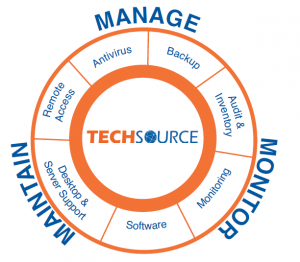 Our approach to managed services is simple and effective. We learn about ALL of your systems and software and integrate ourselves into your infrastructure allowing us to keep a close eye on the health of your IT assets.
As you grow, your new equipment will seamlessly be integrated into your infrastructure by a partner you can trust. Going beyond the hardware, even software upgrades and maintenance can be added to your service agreement allowing us to keep all your software up-to-date!